Emails are one of the most annoying things that we have to deal with and yet they are something that we cannot work without. We have to accept the fact that emails are here to stay for the foreseeable future, and if we cannot get rid of it, it's better to have a system which helps us deal with emails in a better and more efficient manner. One of the pillars of that system is a good email client which can help you deal with emails without causing a brain aneurysm. Over the years I have tested many email clients for both Android and iOS devices and I am going to share my favorite apps with you in this article. So, if you are looking for the best email app for you, here are the 10 best email apps for iPhone and Android that you can use.
Best Email Apps for iPhone and Android
1. Gmail
Let's get the obvious option out of our way first. Gmail is Google's free email service and most of us are using it in our daily lives. If you don't have a professional email account, chances are that you are using Gmail. Apart from its email service Google also provides its own email apps for both iOS and Android with the same name, and I must say, it's one of the best free email apps on the market. I love its straightforward user interface which makes the email readable at a glance. There's also gesture support which lets you easily triage through your emails.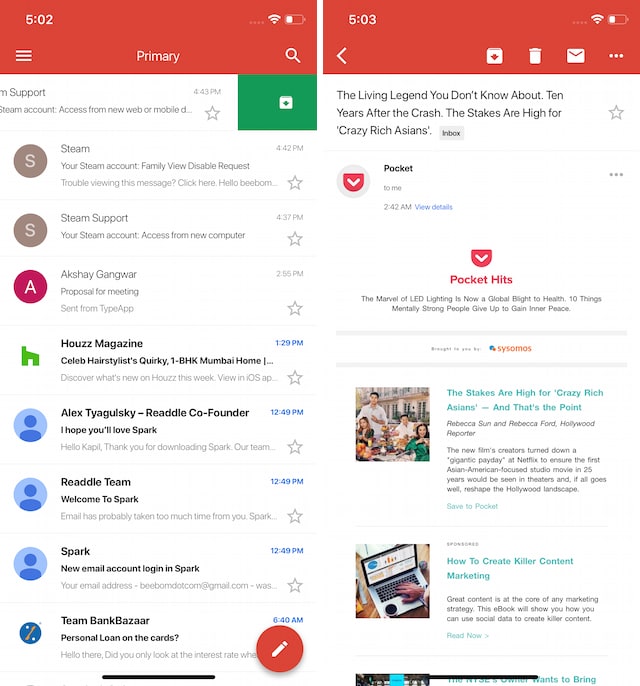 Google has also sprinkled small features throughout the app which makes using the app much more enjoyable. First of all, there's a new nudge feature which reminds users to reply to emails that they might have forgotten about. Then there's a smart reply and smart compose features which makes the replying process so much faster. Gmail has also announced that it's closing its other email client Inbox and all its features will be making to Gmail in the future which is good news. Overall, Gmail is a complete email app for both iOS and Android devices and you should give it a chance.
Supported Email Services: Gmail, Exchange, IMAP, and POP
2. Outlook
Another great email app for iPhone and Android which comes from a major tech giant is Outlook. Created by Microsoft, Outlook is the app that most of the business users use as their email client. While the app is available on both Android and iOS platforms, it is especially good on iOS, thanks to a more fluid and interactive design language. I love its "Smart Inbox" feature which gives me access to my most important emails first so I can reply to them at the start. I also love the swiping features which lets me quickly schedule, delete, and archive emails.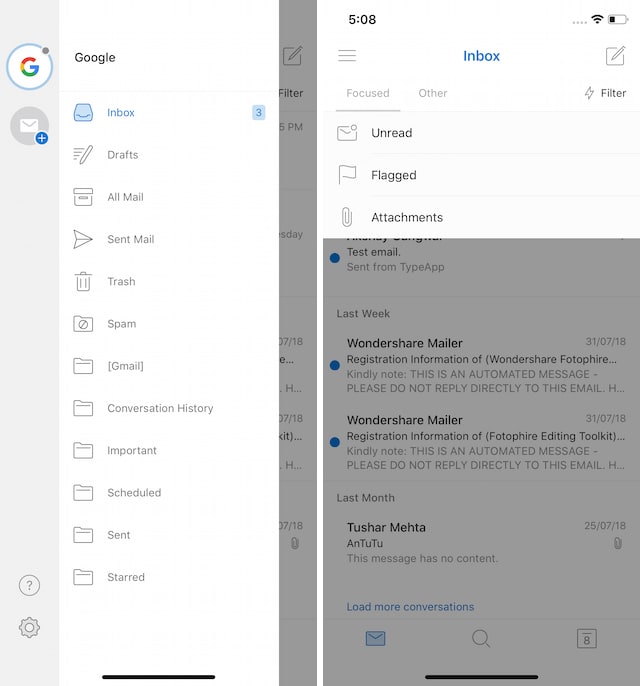 There's also a robust search feature which lets users search for files, contacts, upcoming trips, and more. If you are using an exchange account then Outlook will become even more powerful as it will let you manage your calendar, schedule meetings, and more. Other features include third-party integration with various other productivity apps such as Slack, Dropbox, Evernote, Trello, and more, support for multiple email services, ability to open files without downloading them, and attaching files directly from cloud storage among other things.
Supported Email Services: Microsoft Exchange, Gmail, Yahoo Mail, and iCloud, IMAP, and POP.
2. Spark Mail
Spark Mail is a free email client for iPhone and Android. I have been using Spark Mail on my personal iPhone for years and it has never let me down. The reason why I have stuck with Spark Mail for so long is that its design is both functional and pleasing to eyes. First of all, Spark Mail intelligently categorizes emails into two main sections which are Personal and Newsletter. Personal is the section which hosts the emails that you need to respond to while the emails in Newsletter section generally are ones which will end up in your trash. You also have the ability to pin important emails which will always remain at the top giving you quick access.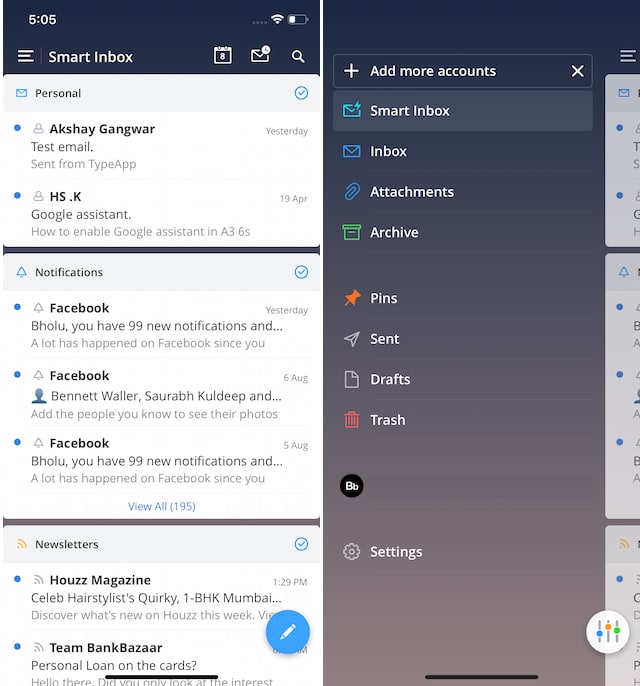 Talking about other features, I also love Spark Mail's swiping gestures. There are two small and two long swipe gestures which can be customized as per your preference. You also have the ability to snooze emails, a feature which comes in really handy. If you are a business user and work with multiple team members, you can choose for the paid plans which give you access to extra features such as the ability to share emails with team members, the ability to chat below an email thread, the ability to draft email in real-time with other team members, and more. I have been using Spark Mail as an individual user and I don't pay for it, however, it's great to see paid plans for features that business users might want in their lives. This is one app you should definitely try.
Supported Email Services: Gmail, Exchange, iCloud, Outlook, Yahoo, and Kerio Connect
Install: iOS / Android (Free, Starts at $7.99/user/month)
4. Blue Mail
Another great third-party email app for Android and iOS devices is the Blue Mail app. One of the biggest benefits of using Blue Mail is that it supports all kinds of email services so no matter which email service you are using, Blue Mail will work for you. When it comes to features, Blue Mail is no slouch. You get all the usual features such as support for swiping gestures, the ability to schedule emails, filters and search, signature support, customization user interface, and much more. Personally, my favorite feature of Blue Mail is its ability to deliver smart mobile notifications.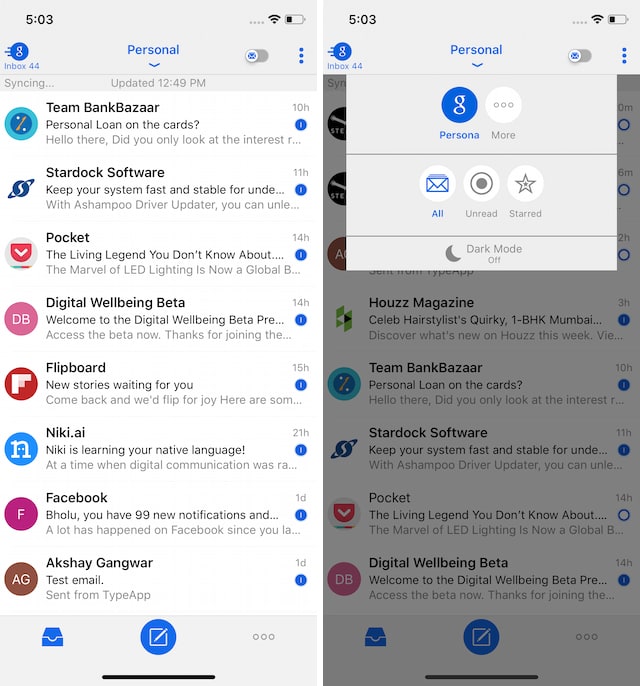 You can define quite hours so that you are not disturbed, set custom ring sounds for notifications, choose to vibrate the phone and turn on flashlight among other things. The best part is that all these settings can be customized on a per account basis which is just awesome. Talking about the accounts, Blue Mail supports unlimited accounts so whether you have one account or ten, you will be able to use this one email client for all of them. The bottom line here is that Blue Mail is packed with features and if you are a power user, you are going to enjoy them.
Supported Email Services: Gmail, Yahoo Mail, Hotmail, AOL, Outlook, Alto, iCloud, Office 365, IMAP, POP3, and others.
5. ProtonMail
If you value your privacy over everything else then its time that you start using ProtonMail. The app brings end-to-end to encryption to your emails which means even the creators of ProtonMail cannot read your email even if they wanted to. In a world where popular email clients such as Edison Mail has been found to be reading user's emails, you can never be too cautious. If you have even a shred of doubt about a free or even paid third-party email app, then ProtonMail is the answer for you. ProtonMail is an open-source project which means its code is available to be examined by everyone. The good news is that no one has found any security related risks with the app.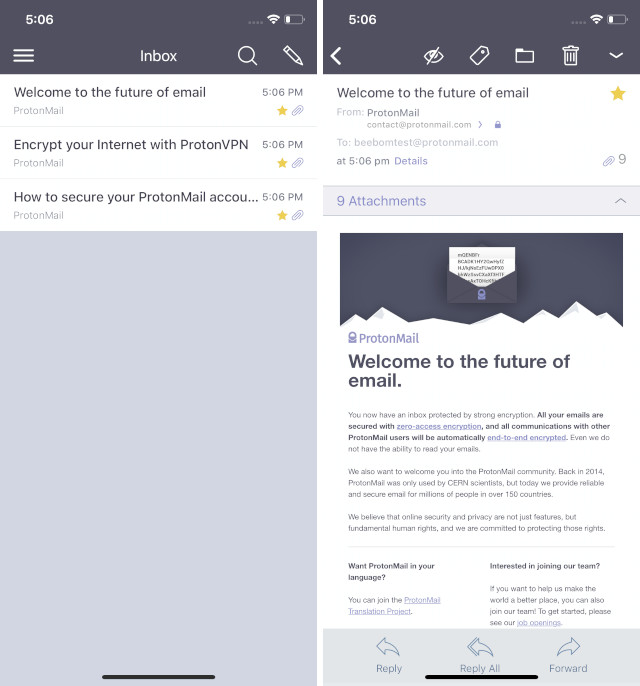 I love the fact that even though ProtonMail is an open-source app, it's user interface is quite modern and easy to use. Your emails are automatically sorted and you are presented with the most important emails first. ProtonMail might be a little lacking in features, however, for what I do, I have never felt that I needed more power. Also, I know there are thousands of you out there who will take privacy over extravagant features any day. As I said, if you love your privacy, ProtonMail is for you.
The only drawback here is that you will need to create a new email using ProtonMail's service as your current email IDs will not be supported for obvious security reasons. That means you will have to create a new email account (which is free) and share with your existing contacts. If the other party is not using ProtonMail, you can choose to encrypt the emails with a password which you can share with the recipient party which can use the password to decrypt the email. All that said, if you are keen on using your current email ID then you will have to look at other services on this list.
Supported Email Services: ProtonMail
Install: Android / iOS (Free, paid options are available for users who want to support the development)
6. myMail
myMail is an email app for Android and iOS which I have discovered quite recently and fallen in love with. The email client supports almost all the email services so you are good to go no matter which email service you are using. I love the app's user interface as it's quite easy to navigate. The app makes it very easy to find important emails. You get access to all the usual features such as archiving and snoozing emails, creating filters, browsing attachment files directly from the app, a robust search feature, the ability to add labels, support for email threads, and more.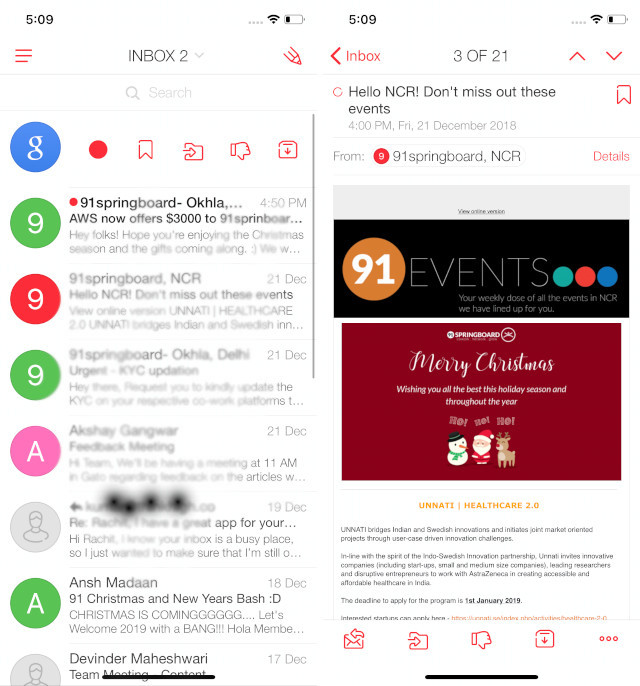 One of the highlights of this app is that it uses OAuth authentication to sign in to Hotmail, Gmail and Outlook accounts which do not request users' credentials. Instead, access to users' data is acquired directly from Microsoft and Google's servers which ensures a secure e-mail login. Overall, I quite like this app and suggest that you try it out.
Supported Email Services: Hotmail, Gmail, Yahoo, Outlook, AOL, iCloud, Redifmail, Blackberry mail, Live, Microsoft Exchange, and more.
7. Nine Mail
Nine Mail is a great third-party email app for Android and iOS devices for business users. The email client supports direct push synchronizations using Microsoft Exchange's ActiveSync technology which allows it to access the emails almost instantaneously. What I love about Nine Mail is that it brings email, contacts, and calendar at one place. I also love the app's user interface which is both beautiful and practical. There's also a dark mode which helps in those late night email sessions. Other features of the app include support for multiple accounts, push notifications for folders, automatic setup for supported email services, Full secure HTML support, and more. I think, if you are looking for an email client from the perspective of a business, you should give it a try.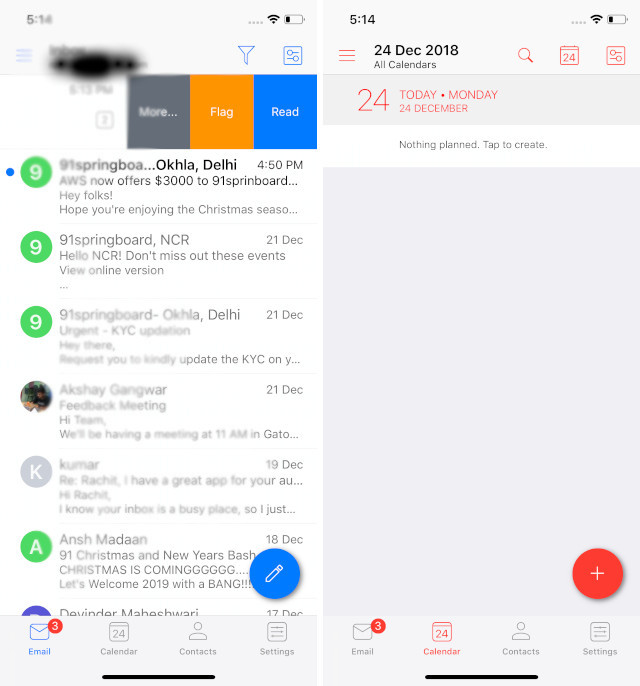 Supported Email Services: Exchange Server 2007, 2010, 2013, 2016, Office 365, Exchange Online, Hotmail, Live.com, Outlook, MSN, G Suite, and more.
Install: Android / iOS (Free 14-day trial, $14.99)
8. Aquamail
If you are looking for a simple to use email app for our Android device, check out the Aquamail app. The app works for all types of users. Whether you are a business user or just want an app for your personal email, Aquamail can serve you well in either of the situations. One of the biggest features of Aquamail is its ability to create cloud backups using services such as Google Drive, Dropbox, and more. Just like myMail, Aquamail uses 0Auth2 login process for Yahoo, Gmail, and Hotmail accounts which is a more secure login process.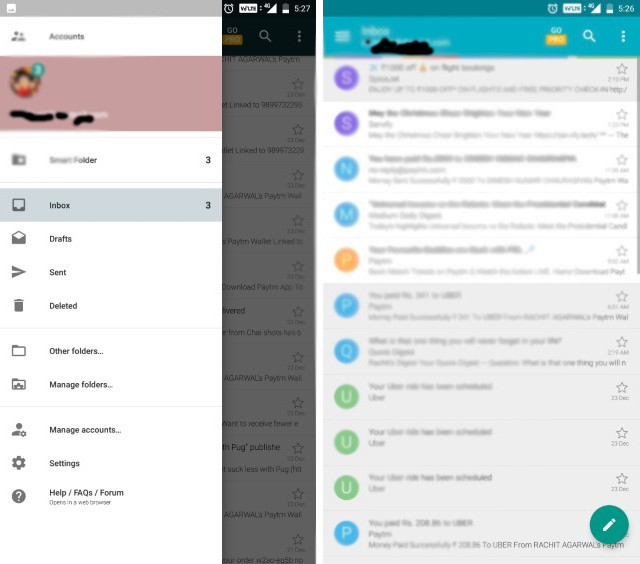 The app also integrates with third-party services to give you more control over your interaction with your emails. It also offers one of the best rich-text editors for drafting emails allowing you to draft beautiful emails right on your Android device. Finally, the app also supports themes allowing you to customize the look and feel of the app exactly how you like it. I quite enjoyed using this app in my testing period and have no qualms in recommending this.
Supported Email Services: Gmail, Yahoo, Hotmail, FastMail, Apple, GMX, AOL and more.
Install: Android (Free with in-app purchases)
9. Airmail
Airmail is a powerful and customizable third-party email client for iOS users. The app looks absolutely beautiful and sports one of the best-looking user interface of all the email apps on this list. When it comes to feature, Airmail doesn't disappoint. It brings features such as customizable swiping gestures, support for 3D touch for email and attachments preview, snooze, bulk editing, unified inbox, and third-party app integration with apps such as Trello, Evernote, Slack, Things 3, and more among other things. One of my most favorite features of Airmail is the custom filter which allows me to create custom filters and save them so that I can quickly get to important emails. People who use Airmail swear by its prowess and if you are using an iPhone, you should try it out.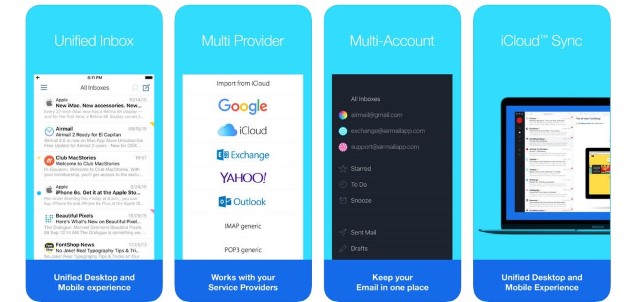 Supported Email Services: Gmail, Exchange EWS, IMAP, and POP3.
Install: iOS ($4.99)
10. MailDroid
MailDroid is a totally free email app for Android users which is one of the oldest email clients on the Play Store. In an age where popular email apps such As Newton or Astro Mail are either closed down or bought by bigger companies, MailDroid has remained available to users for free of charge. That means you can be sure that you can use this email client for years to come without any fear.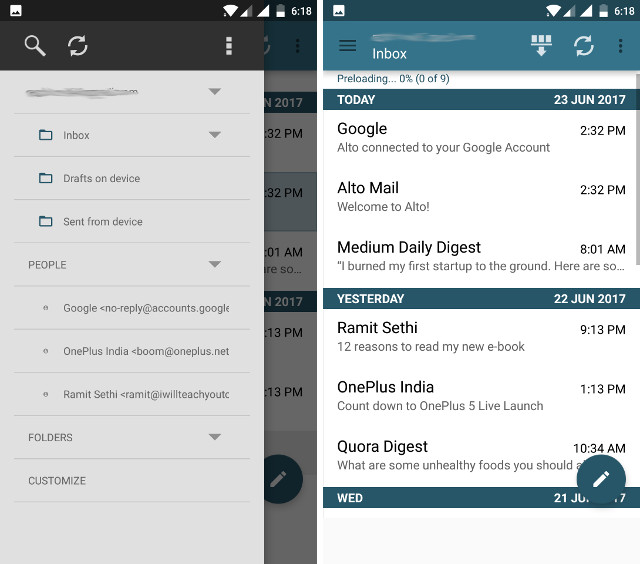 Talking about its features, the USP of this app is that it is a pure email client which means it doesn't have a back-end server looking at your emails. You just set up your POP, IMAP, Exchange connections and the client speaks directly to the server. Apart from this, you get access to all the other features that we have come to expect from a good email client such as the ability to snooze emails and send them later, custom mail rules, robust search, support for rich signature, different notification styles, and more.
Supported Email Services: Gmail, Yahoo Mail, AOL Mail, Outlook, POP, IMAP, and more.
Install: Android (Free, in-app purchases for extra features)